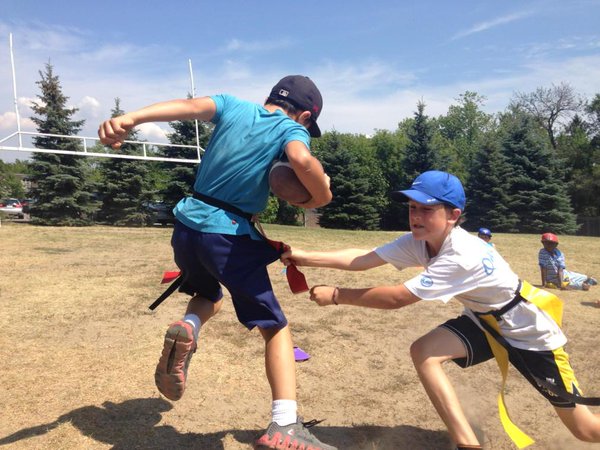 For many years, the only option for aspiring young football players has been full contact tackle football. However, non-contact flag football camps and leagues for kids has gained in popularity in recent years and are now strongly encouraged by many current and former college and pro football players. Billy Taylor, a former New York Giants running back says "the environment is safer and more fun, so players have the opportunity to really focus on improving the foundations of their game".
A Fun and Safer Alternative
Flag football presents a fun and safer alternative to full contact tackle football.
The key to flag football as an alternative to tackle football, is that instead of the focus being on tackling and protecting themselves, kids are able to focus on improving their technique and learning the intricacies of the game. Learning to catch, throw, kick and play defense are key skills that can be taught equally as effectively with, or without equipment.
For many young players, beginning their football experience in a contact football program can be very intimidating. In addition to getting used to a new group of teammates and learning the fundamental skills, they also need to worry about staying safe amidst full contact with more experienced players. Therefore starting with flag football is a great option for kids who are interested trying football, but aren't sure that they are ready for tackle football yet. For parents, a more relaxed and safer environment can add a lot of piece of mind.
"We see youth football moving in a similar direction as hockey has in Canada, where contact has been delayed until players are older and more mature," says Blake Enzel – former program director for True North Flag Football Camp in Toronto. "At the high school and university levels, tackle football will continue to be very popular, but we are excited to give families with younger children an safer and fun alternative".
Flag Football – A Great Option for Multi-Sport Athletes
Flag football oriented practice, games and drills can greatly benefit hockey, soccer, baseball and lacrosse players. Flag football players must run, throw, catch and defend while demonstrating a variety of athletic skills. They twist, turn and sprint for the ball—deploying and refining their motor skills. "Kids who play multiple sports become well-rounded individuals and generally have more fun when they are playing sports" says Blake Enzel.
True North Flag Football Camp
True North Flag Football Camp was developed in light of the trend towards safer non-contact football programs for kids. Launched last year as First Down Flag Football Camp, we provide kids ages 7-14 with the opportunity to learn the fundamentals of flag football in a fun, safe and active environment. The program features a structured curriculum with a range of drills, games and competitions aimed at creating the best possible summer camp experience for aspiring young football players.
Are you looking for a fun, safe and active sports camp this summer? Give True North Flag Football Camp a try!