Introduction
True North Flag Football Camp at Memorial (in Forest Hill) is a non-contact day camp for girls and boys of all skill levels, ages 7 to 14 years old. Operating Monday to Friday from 8:30 a.m. to 4:00 p.m. at Memorial Park, campers will be introduced to the game of football in a fun, safe and non-contact environment. Throughout the week, campers will be taught the fundamentals of throwing, receiving, rushing, and defense, as they rotate between quarterback, running back and wide receiver stations. From the skills combine to the draft, we make campers feel like they're in the pros!
Fees
Your first registration at Flag Football Camp will cost $410 (+HST).
Discounts
We offer Multi-Sibling and Multi-Week discounts. A discount of $75 will be applied to the second week/sibling registration. Any additional registration after the second week/sibling registration will be discounted $75.
Note that these discounts will be applied between different sports camps and locations (ie. Baseball, Flag Football, Multi-Sport, Soccer and Basketball) but if you're registering in a separate transaction the discount will not automatically apply and you will need to call us at (416) 619-1224 or email us at info@truenorthcamps.com to ensure the discount is correctly applied.
Please note that this camp operates on the Civic Holiday Monday (August 7th). If you will be attending for only 4 days that week, you can use the ""CivicHoliday" discount code to receive 10% off your registration.
You have the option to defer payment until May 1st. Payment will not be required in full until May 1st.
Extended Care
Drop your child off as early as 8AM and pick-up between 4PM - 5PM for an additional $75 (+HST)/week per child.
Pricing Notes
Applicable Taxes: all fees are subject to 13% HST
Please click here for information about our cancellation policy and payment options.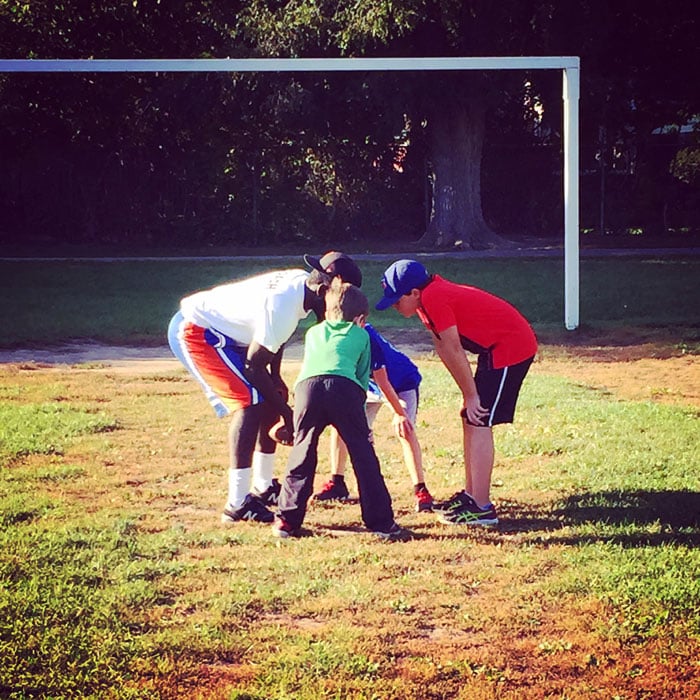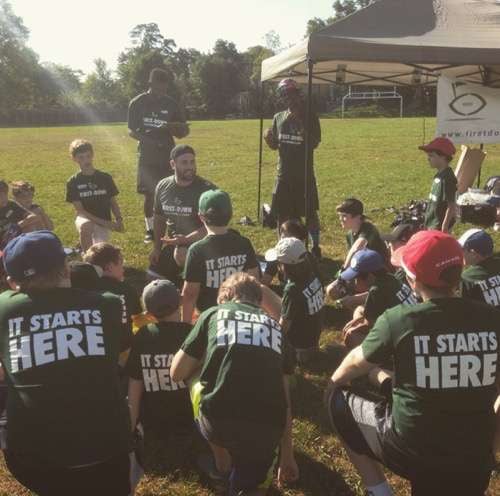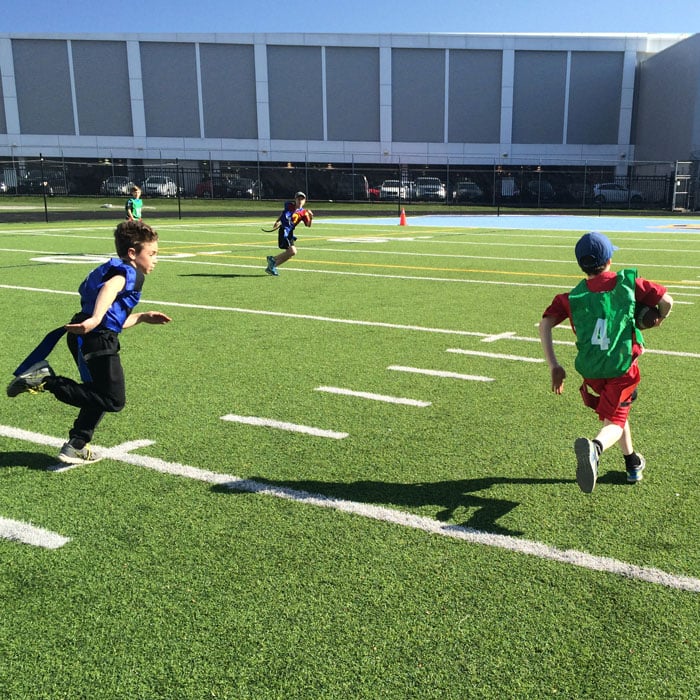 Location
Indoor Facility
In case it rains, we have access to the Forest Hill Memorial Arena, located next door to Memorial Park. We are able to use one of the two ice surfaces (which is not frozen in the summer) for physical activity and football drills. If it is raining in the morning or afternoon, drop off and pick up will take place at the entrance to the arena.
Camp Features
Scouting Reports
Outstanding Coaches
Weekly Tournament
Camp T-Shirt
FUN Fridays
Prizes and Giveaways
Scouting Report
At the end of each week, players will receive a True North Flag Football Camp Scouting Report. The Scouting Report is a great way for each camper to receive personalized feedback on their progress throughout the week.
FUN and FUNdamentals
Each week, campers will receive expert flag football instruction in an environment that emphasizes fun and safety. By providing campers a structured method for learning new skills, we try to build each camper's confidence as they watch themselves improve. We then allow campers to practice those new football skills in a series of fun games and activities. We believe this philosophy is critical at a sports camp and is part of how we aim to deliver the best possible experience for each camper.
What to Bring
Lunch/Snacks: All campers must bring their own lunch and snacks. Please note we are a nut-free camp.
Sunscreen and hat.
Athletic clothing
Football cleats are allowed but not necessary. Running shoes are recommended.
Any personal equipment you wish to bring (footballs, receiving gloves etc.) – remember to label everything!
Water bottle.
Note: All footballs, flags, jerseys, and other equipment will be provided.
A Week at Camp!
Each week of camp is designed as a mini training camp that leads up to Game Day Friday. Every camper will have an opportunity to explore the four cornerstones of flag football: quarterback, running back, wide receiver and defense. Each morning will be spent on drills, activities and skill-building, while the afternoons will focus on the application of those skills.
Setting the Basics

The week of camp begins with an initial evaluation of each camper's skill level as they are taught the fundamentals! Campers will participate in a series of drills to provide a benchmark for each of the key flag football skills (throwing, receiving, speed and fundamental movements). An initial Scouting Report is completed for each camper and they will be re-assessed at the end of the week to show their improvement and track their progress. Campers will then be divided into groups and will rotate through different activities that allow them to experience playing quarterback, running back, wide receiver and defense.

Cornerstone Drills

After lunch is a short whiteboard session, where campers will learn about various technical aspects of the game such as route trees, defensive coverage, and basic plays. Following the whiteboard session, campers will participate in large-group games and activities including Ultimate Football, Steal the Bacon, and Skeleton Football.

Draft Day and Playbooks

Mornings are spent with campers participating in drills and activities that encourage skill-building in the technical aspects of flag football, while the afternoons focus on fun and creative applications of these skills. The end of the day on Wednesday is Draft Day, where campers are broken up into their respective teams based on their two positional preferences (QB, Receiver, and/or Running Back). Campers are also given their coach's Playbook so they can learn their plays for Thursday and Friday.

Team Scrimmages

Campers will spend the morning completing skill drills with their team, as well as learning their coach's Playbook and doing run-throughs of the offense and defense. In the afternoon, a "practice tournament" will feature short, scrimmage-style games between each of the teams.

Game Day!

Following the morning warm-ups and introductions, teams compete in a full-day of fun games and a round-robin tournament. A championship game is played at the end of the day and an End-of-Week Scouting Report is provided to each camper.
Questions
Not sure what program is right for you? Feel free to email us or call our office at (416) 619-1224 and we would be happy to further discuss our programs.