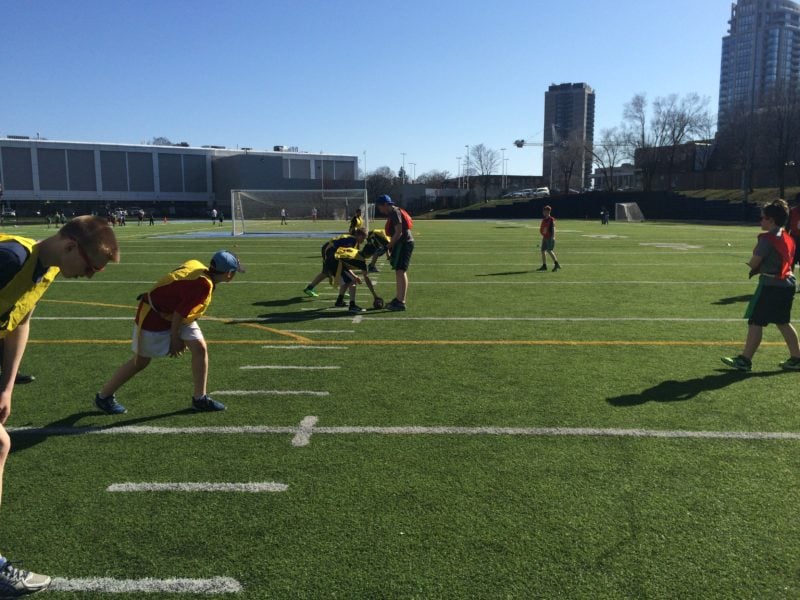 Have you heard about Flag Football? Regular football might be one of America's great pastimes, but it's also popular here in Canada. You and your family might enjoy sitting down to watch an NFL game on Sunday afternoons or Monday evenings. Maybe you get pumped up about the Superbowl or the Grey Cup (go Argos!).
If you're a football family, your kids might express interest in playing. Even if football isn't a staple in your household, your children might be introduced to the game at school or through friends and classmates and they might want to try the sport out for themselves.
Unfortunately, football is a full-contact sport and new research suggests children shouldn't be playing such a rough game as it could lead to injuries, including concussions. Many parents are hesitant to sign their children up for football as a result.
However, there is another option - flag football is a great activity choice for your kids!
How It Works
This alternative developed as a milder version of American-style football. It has many of the same rules, but the biggest difference is the removal of contact. Instead of tackling other players, the defending team members must remove a flag or flag belt worn by the ball-carrier.
[embed]https://youtu.be/NPrHlPCkpKM[/embed]
This is much safer for children and adults alike! For parents who are concerned about the injuries associated with football, it's a great alternative.
An Anywhere, Anytime Kind of Game
Another great thing about this version of football is that it requires relatively little in the way of equipment. Whereas players engaged in a game of tackle football should be outfitted with protective gear, flag football's more recreational nature and its focus on safety mean you don't need to wrap the kids in a layer of foam padding and a helmet before sending them out to play.
All you really need are a ball, a flag, a place to play, and a few willing players. In more formal settings, coaches, referees or camp counsellors will guide the players and enforce the rules.
It Keeps Them Active
If you have trouble keeping your kids active, this non-contact football game is a great choice. You can sign the kids up for a formal camp or clinic, making a commitment to staying active and learning new skills. The game also loans itself to impromptu play, so instead of watching football on Sunday afternoon, you might choose to head outside and play a round with the kids yourself!
Keeping children active is a major challenge for Canadian parents, especially during the winter months. If your child is passionate about football, this could be a good way to get them involved in a safer version of sport that they love and they can even continue indoors when the temperature drops!
It Builds Skills
Play is incredibly important for children since it helps them build many skills. Sports are much the same. While it might appear to be fun and games to an outsider, your kids are actually learning and honing some important skills when they play a game of flag football. Camps and clinics focused on refining these skills put players to the test with drills and competitions.
What kinds of skills does flag football build? It can develop a great sense of teamwork and help children practice discipline and self-control. Learning and applying rules during a game will help them in other settings as well. Flag football will also provide an opportunity to develop fundamental movement skills such as running and passing. Eye-hand coordination and the ability to judge distance are also practiced in any game of flag football.
It's Fun!
The best reason to do almost anything is because it's fun. Flag football is most definitely a fun way to stay active, whether it's played in your backyard or practiced at a skills development camp or clinic.
As outlined above, there are many reasons to recommend flag football as a great activity for kids. Discover more of them by enrolling your child in a clinic or camp near you.