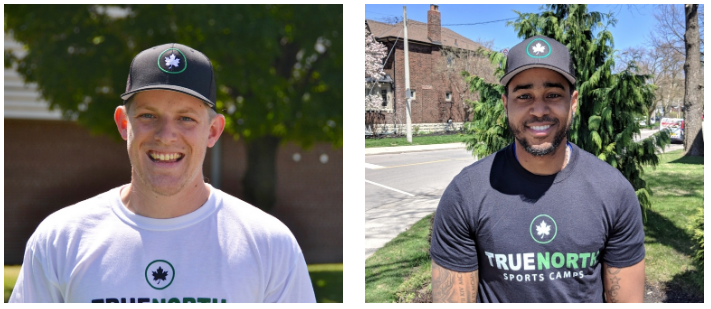 For returning True North families, Blake and Justin are sure to be familiar names (and maybe faces!) to you. After working with us for several years, we wanted to re-introduce these two amazing staff members to all of the new families joining us. You will see Blake and Justin at birthday parties, after-school programs and weekend clinics as well as on-site at camp. They may also be the voice you hear when you call the office or the author of the reply to your email inquiry!
Interested to learn more about them? Keep reading!
Blake Koester (above on the left) is our Director of Operations who joined our team full-time in August 2016. He has completed the Sport Management program at Humber College and worked at the Ontario Cycling Association followed by Mooredale Sports Club before joining True North.
Justin Atkinson (above on the right) is our Assistant Director of Operations who joined our team originally as a Baseball Camp Program Director in 2017 (he moved to full-time with us in 2018). Justin has completed his Sports Administration Degree from Belhaven University in Mississippi. Before joining True North, Justin interned at the San Francisco 49ers and in the Stanford University Athletics Department. Justin has over 15 years of baseball playing experience (including at the collegiate level in the US).
---
Q&A - an interview with Blake and Justin:
1) What do you love most about summer camp?
Blake: playing sports in a less structured environment - it provides more freedom for our staff to make the games and activities more fun for the campers
Justin: I agree - it's why more serious athletes enjoy coming to camp. We can have more creativity coming up with games and the kids can have fun without being worried that they are going to be called out by a coach, but at the same time, they get to practice and improve their skills
2) Where does your passion for sport come from?
Blake: to be honest, as a kid, sitting in front of the TV... my parents didn't play or watch sports when I was growing up
Justin: I'm the opposite - my passion comes from my dad, watching him playing sports growing up, he pushed me to get to the level that I got to playing baseball
3) What is your most memorable sport-related moment growing up?
Justin: when I was 12, just a few days after my birthday, we were in a tournament, I pitched a one hitter and hit three home runs in the same game
Blake: mine is probably going to a Mats Sundin hockey skills clinic and getting to meet Sundin who was the captain of the Leafs at the time
4) If you could have lunch with any athlete (dead or alive) who would it be?
Justin: Bob Gibson, hall of fame pitcher for the St. Louis Cardinals. I would talk to him about baseball and pitching - how he managed to break his leg during a game and his pitching during the World Series
Blake: I would say Chad Johnson (Ocho Cinco) from the Cincinnati Bengals, I think it would be a super interesting conversation because he is an outspoken athlete and he loves McDonalds so we could go to McDonalds for lunch haha
5) What is your favourite part of your job?
Blake: being able to think outside the box and create fun, exciting and different programming
Justin: the excitement of the returning campers when you get on-site at camp - they are so excited to give you their life story about what happened over the past year and can't wait to talk about baseball
6) What is your favourite camp game?
Justin: the counsellor home-run derby (partially because I'm a three-time champ!), also just because it's fun
Blake: backwards baseball... because it's baseball backwards!
7) Where are you headed on your next vacation?
Justin: LA & San Fran to visit some friends
Blake: Phoenix Arizona - to the Waste Management Open (that's what it is really called!), the golf tournament is sponsored by Waste Management
8) 2019 - 2020 sports predictions?
Blake: the Leafs are going to win the Stanley Cup! We are due... and also because the Raptors won and winning is contagious
Justin: Houston Astros will win the World Series again, because they are stacked... basically...
9) If you had to eat only one food for the rest of your life (nutritional value aside) what
would
it be?
Blake: burritos - for no reason other than I love burritos
Justin: burritos as well! That way you can still have variety...
10) What is the weirdest thing about you?
Blake: I eat pop-tarts before going to the gym; two strawberry - not every time but pretty regularly
Justin: not a "weird thing" but a random fact is that I've travelled to 38 states and lived in 4
Blake: you are also the only person I have met who eats bell peppers like they are apples like I do...
Justin: haha yes that is true!
---
Fall programs are now open for registration! Check out the details online (click here). Join us for baseball or basketball!