House League Basketball Details
All the information below is from 2020. Our winter schedule is TBD as we are awaiting word from our facility providers as to when or if at all they'll be permitting their indoor facilities due to the COVID-19 virus. As soon as we have an update we'll be sending an email to our families and updating our website. If you have any questions feel free to email us at info@truenorthcamps.com or call our office at (416) 619-1224.
True North Sports Camps is offering a NEW 3-on-3 Skill Development House League basketball program for ages 7 - 9 and 10 - 13!
Players will have the opportunity to learn the game of basketball in a fun and pressure-free environment. Our experienced coaches will ensure that the skills, drills, and games are tailored to each player's needs. Players are encouraged to continuously develop their skills over the course of our 8-week season while increasing their drive & passion for the love of the game!
Further Program Information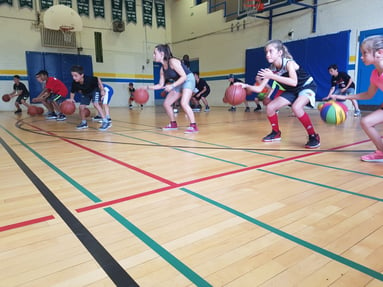 Session Details
| | |
| --- | --- |
| Session | Details |
| Week 1: Combine & Jersey Day | The Combine Day will be used to gauge the skill level of all participants in an effort to create the most equal teams possible. Players will participate in a variety of fun skill-testing games, which will focus mainly on the following skills: dribbling, passing, shooting, defense, etc. The session will end with a scrimmage allowing all players to familiarize themselves with the rules of the league. We will also be handing out jerseys! |
| Weeks 2 - 7: Regular Season | Each week will consist of a 40min practice and a 40min game. Scores will be kept on site only and standings will not be tracked or published. Week 7 (Feb 23) will be photo day! Each player will receive an individual and team photo emailed out to all families. |
| Week 8: True North Tournament Day | The Tournament Day will consist of a mini tournament where every team will play each other once. Games will be 20 minutes in length. We will finish the program with league awards given to individual players (i.e. Sportsmanship, MVP, Hustle, etc.) |
Season Schedule
| Program # | Program | Day | Dates | Ages | Start Time | End Time | # of Sessions | Location | Price | Sign Up! |
| --- | --- | --- | --- | --- | --- | --- | --- | --- | --- | --- |
| 11 | Basketball League | Sun | Jan 12 - Mar 1 | 7 to 9 | 12:50pm | 2:20pm | 8 | Leo Baeck | $300 | Waitlist |
| 12 | Basketball League | Sun | Jan 12 - Mar 1 | 10 to 13 | 2:30pm | 4:00pm | 8 | Leo Baeck | $300 | Waitlist |
| 20 | Basketball League | Sun | Mar 8 - Apr 26 (skips March 15) | 7 to 9 | 12:50pm | 2:20pm | 7 | Leo Baeck | $263 | Cancelled |
| 21 | Basketball League | Sun | Mar 8 - Apr 26 (skips March 15) | 10 to 13 | 2:30pm | 4:00pm | 7 | Leo Baeck | $263 | Cancelled |
Pricing Note: Registration fees are subject to 13% HST. Please click here for information about our cancellation policy and payment options.
Discount: We also offer a Wednesday evening Basketball Clinic for ages 6 - 10 at St. Clements School throughout the winter season - if you would like to register an athlete for both the League and the Clinic, you will receive 25% off the Clinic price. Contact us to apply the discount!
Location
Entrance
Please enter through the green doors in the parking lot (north-east doors). We will meet you at the entrance and direct you to the gym!
Parking
There is parking at the back of the school's parking lot.
Frequently Asked Questions
Why 3 on 3 Basketball?
3 on 3 Basketball has many benefits when it comes to the development of each individual player, including; increased handling of the ball, better floor spacing and more focus on basketball skills and actions.
How long will the games be?
Games will consist of 2 x 20-minute running time quarters with a 5-minute half-time break.
How many players are on a team?
The team sizes will vary depending on how many players register for the program. There will be between 5 - 9 players on each team.
My son/daughter has never played in an organized league before - is this program a good fit for them?
Yes! Our skill development house league is a recreational program where kids can learn more about the FUNdamentals of basketball, allowing them to improve their skills and learn different basketball scenarios during 3 x 3 gameplay every week.
As a parent, can I volunteer to coach?
As we will staff the league with our trained and experienced basketball coaches, we are not accepting any parent volunteer coaches at this time.
Is it okay if my son/daughter will miss a game? Do you offer pro-rated fees?
We completely understand if your son/daughter has to miss a game during the 8-week season - that is totally fine! However, we do not pro-rate fees for missed sessions.
Do you publish the team standings and scores?
We will not be publishing any team standings or scores.
Can my child be on the same team as his/her friend?
You can enter the request in the registration form when signing up. While we will take all requests into account when creating the teams, we do not guarantee that all requests will be granted as we will be making the teams as fair and even as possible.
Questions
Not sure what program is right for you? Feel free to email us or call our office at (416) 619-1224 and we would be happy to further discuss our programs.