We couldn't be more excited for this upcoming summer! While we will be offering all of our classic programs - including Baseball Camp at Forest Hill (Memorial Park) - we've also added some additional programs and features to our existing lineup! As we are continuously looking for ways to improve and grow, we want to sincerely thank all of our campers and their families for the valuable feedback over the years.

---
Girls Camps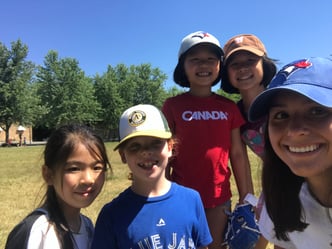 We are thrilled to be growing our Girls-Only Camps this summer! By creating a safe and empowering environment for young girls, we hope to make youth sports more inclusive. While all of our programs are co-ed and girls are ALWAYS encouraged to attend, our Girls Summer Camps allow campers who may not play team sports to build self-esteem and confidence in a fun and enjoyable atmosphere.
Based on the popularity of our Girls Baseball Camps the past few years, we are proud to add Girls Soccer and Girls Multi-Sport!



---
Expanded Extended Care - early drop off!
Not only do we want campers to have a memorable experience at True North, we strive to provide the best possible service for our parents. From the initial registration to the first day of camp, we want all of our interactions to be convenient and helpful. We know the summer can be hectic, as you balance work and your children's activities throughout the city. That's why we're excited to expand our extended care option to include early drop-off at 8:00am. Now, parents can drop-off their son or daughter at 8:00am and pick-up as late as 5:00pm
---
North York: Baseball Camp at Bond Park
This year we are expanding our baseball programs to the North York area! Join us this summer for our recreational Baseball Camp at Bond Park (ages 7 - 14). We are also leaving Sentinel Park behind and moving our Elite Baseball Camp (ages 9 - 14 rep & select players only) to Bond Park as well. This amazing location at Yorkmills & Leslie is definitely an upgrade for our campers! We hope to have you join us.
As in previous years, we are offering a depot bus service for added convenience. Please check out our website (click here) for additional details.