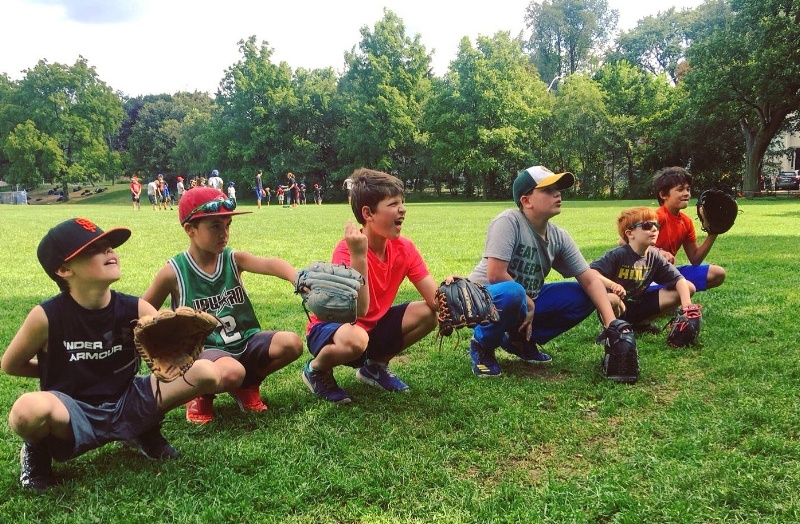 Along with how to choose the right bat, one of the most frequent questions parents ask us is "How do I know which baseball glove to buy?" Whether you are a beginner or advanced level player, this question relies on many factors. Do you play baseball or softball? What type of webbing do you want? Which brand do you like?
The most important consideration when choosing a baseball glove is which position you play. Each position has different characteristics and each glove has a unique design and size.
The following are 5 questions to help guide your decision:
What position do you play?
Catcher's Glove
The catcher's glove is the most unique looking glove because they have to catch the highest velocity throws.
Contains thick padding surrounding the pocket to soften the impact.
Reinforced to withstand heavy use throughout a game.
First Basemen's Glove
Contains less padding than the catcher's glove, but more than other infield positions.
Long and wide to help the first baseman reach and scoop throws from infielders.
Youth – Size is between 11 inches and 12 inches
Adult – Size is between 12 and 13 inches
Infielder's Glove
Smaller size and shallow pocket for better control and quicker ball transfer
Youth – Size is between 9 inches and 11 inches
Adult – Size is between 10.5 and 11.5 inches
Within the infield, each position is different:

2nd Base: Usually the smallest glove to help players have a quick release
SS: Slightly larger than a second basemen glove
3rd Base: Larger than second base and short stop, as they do not turn as many double plays
Outfielder's Glove
Much longer than infielder's gloves to give players as much reach as possible.
Contain a deeper pocket to handle balls hit high in the air; quick release is not as important.
Youth – Size is between 11 inches and 12 inches
Adult – Size is between 12 inches and 13 inches
Pitcher's Glove
The key is to hide the grip on the ball from the batter by using a closed webbing.
Pitcher's gloves can be any size so long as it's comfortable. Often slightly larger than middle infielders but still small enough to make plays.
Youth – Size is between 10 inches and 11 inches
Adult – Size is between 11 inches and 12 inches
Do you play softball or baseball?
Generally, all of the rules above still apply. However, since a softball is much larger than a baseball, softball gloves are a little bigger at each position and have deeper pockets. We suggest adding 1-1.5 inches to all of the size recommendations listed above.
How big is your hand?
Within each position, youth and adult players will use different size gloves to account for the relative size of their hands.
Similar to selecting a bat, beginners often benefit from the added control of using a smaller glove.
What type of webbing do you want? What type of leather?
Webbing
Each glove uses a different type of webbing. Here are the most common at each position:
Pitchers – As mentioned, the most important attribute of a pitcher's glove is to hide the grip on the ball from the batter. Therefore, any type of closed webbing glove is ideal including a basket web and two-piece solid web.
Infielders – In order to have a quick transfer, middle infielders prefer using single patch, I-webs, or H-webs. Note that 3rd

basemen typically use a closed web with a deeper pocket, as balls are hit harder to 3rd base.
Outfielders – To add support when catching high fly balls, outfielder's gloves are more closed and have a much deeper pocket. The most popular styles are trapeze and T-webs.
Leather
There are many different types of leather available ranging from low to high quality. The higher quality the leather, the stiffer the glove will be when you first purchase it. It will take lots of working in and rubbing with oil or shaving cream so it can be used in a game situation.However, while better leather is more expensive, these gloves usually last much longer. Lower quality leather will be quite soft when you buy it and likely won't last beyond 3-5 years.
Which brand do you like?
While much of it relies on personal preference (quality, design, etc.), we recommend one of the following brands:
Above all, any glove has to feel comfortable. You use it more than any other piece of equipment, so try out many different brands and find the one that's right for you.
Lastly, in terms of where to buy your glove, as we mentioned when buying a bat we recommend you go to a store which specializes in baseball, as opposed to a department store. Gloves can be an expensive purchase, so it's important to speak to a sales representative that has a lot of experience with each produce. For example, Home Run Sports is an excellent source for all types of gloves.
If you have any questions, please send us an email at info@ntbaseballcamp.com or on Twitter at @ntbaseballcamp!