Introduction
Elite Camp is an advanced baseball program for girls and boys ages 9 to 14 years old who are currently playing at the rep level. Operating Monday to Friday from 9:00 a.m. to 3:30 p.m. at Bond Park, Elite Camp focuses on superior skill development and is geared towards players committed to taking their game to the next level. Our goal is to create an environment modeled after high-school and elite level teams, by providing tailored instruction and a high volume of repetitions. In addition, our expert staff provide constructive feedback through video instruction and individual scouting reports.
True North Sports Camps' baseball programs are run by North Toronto Baseball Camp, which was started by the founders of True North Sports Camps. A staple in the Toronto community since 2007!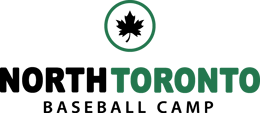 Thank you for an amazing 2019 Summer Camp season! We look forward to seeing you again in 2020.
**Summer camps are now over! Please stay tuned for information about our 2020 season! In the meantime, check out our clinics.**
Fees
Your first registration at Elite Camp will cost $360. Week 6 (August 6 - 9) is a short four-day week due to the Civic Holiday Monday. As a result, this week cost $288/child.
Discounts
We offer Multi-Sibling and Multi-Week discounts. Any additional weeks of camp (whether for the same child or a sibling) will be discounted by $60/week.
Note that these discounts will automatically be applied between different sports camps (ie. Baseball, Flag Football, Multi-Sport, Soccer and Basketball).
Extended Care
Drop your child off as early as 8AM and pick-up between 4PM - 5PM for an additional $75/week per child.
Pricing Notes
Applicable Taxes: registration fees are subject to 13% HST
Please click here for information about our cancellation policy and payment options.
Location
Indoor Facility
In case it rains, we have access to the Bond Park Clubhouse where we are able to run indoor programming.
Camp Features
Scouting Reports
Video instruction: slow motion video feedback
A one-on-one lesson for each camper
Supplementary instructional sessions (arm care, mental skills, etc.)
Staff of accomplished university and elite team level coaches and players
Goal setting session on Monday with position-specific instructor
Camp T-Shirt
Prizes and Giveaways
Scouting Report
Campers will be grouped by primary position and set a baseball related goal on Monday with their position-specific instructor. Scouting reports will include a preliminary assessment, an end-of-week report and a goal update. Our objective is to help players understand and experience the impact of goal setting.
Supplementary Sessions
Campers will participate in supplementary instructional sessions throughout the week designed to help develop the 'complete' baseball player addressing topics such as mental skills and arm care.
What to Bring
Lunch/Snacks: All campers must bring their own lunch and snacks. Please note we are a nut-free camp.
Baseball glove and other personal equipment (helmet, batting gloves, bats, etc.).
Protective athletic cup is recommended.
Baseball cleats.
Proper baseball pants are required.
Water bottle, sunscreen and a hat.
Note: All baseballs, bats and other equipment will be provided.
A Week at Camp!
Monday
Tuesday
Wednesday
Thursday
Friday
8:45 - 9:15
Pre-camp Activities
Pre-camp Activities
Pre-camp Activities
Pre-camp Activities
Pre-camp Activities
9:15 - 9:45
Introductory Talk
(9:15-9:30)
Run/Stretch/Throw
Run/Stretch/Throw
Run/Stretch/Throw
Run/Stretch/Throw
9:45 - 10:00
Run/Stretch/Throw
(9:30-10:00)
Scouting Report Breakdown
Defence Talk with PSI's
Hitting Strategy Talk
Primary Defensive Stations
PSI scouting
10:00 - 10:45
Primary position grouping and scouting
Primary Defensive Stations
(10:00 – 11:00)
Situation-Specific Hitting Stations
Primary Defensive Stations
Gold Glove
10:45 - 11:00
Goal Setting
Break
(11:00-11:15)
Break
Break
Break
11:00 - 12:00
Hitting Stations
Secondary Defensive Stations
(11:15-12:00)
Situation-Specific Hitting Stations
Secondary Defensive Stations
Homerun Derby
Pitching Scouting
12:00 - 12:30
Lunch
Lunch
Lunch
Lunch
Lunch
12:30 – 1:30
Game Prep Strategies
Arm Health
Mental Skills Talk
Situational Strategies
Skills Relay
1:30 - 3:05
Hitting Stations & Games
Inter-camp Games
(Practice time for teams)
Baserunning
(1:30-2:00)
Hitting Games (Practice time for teams)
(2:00-3:00)
Rundowns/Bacha Tourney (Slip n' slide if hot)
Inter-camp Games
Inter-camp Games
Questions
Not sure what program is right for you? Feel free to email us or call our office at (416) 619-1224 and we would be happy to further discuss our programs.